Suitable for ATEX Environments
High speed roll up door for classified environments (ATEX Rated 2G IID T3*)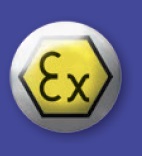 The ATEX door is designed to be installed in special environment's where safety is a high priority.
All its operating components are perfectly isolated and installed within approved enclosures in order to prevent any possible dangerous spark or heat exchange.
The supporting structure is made of galvanised steel with a removable top cover for inspection.
The sliding tracks are provided with long lasting rubber seals and frontal brush.
SPECIAL COMPONENTS ATEX CERTIFIED
ATEX certified electronics enclosures for Control Box and Photocells.
ATEX rated connections for wiring.
ATEX limit switches.
MAIN FEATURES FOR INSTALLATION
 Industry standard made in Europe components. Mechanical, electrical and electronics are made in Europe from selected suppliers for the best performance and reliability.
 Easy fitting with state of the art electronic control box to control and adjust every device and door operation.
Structure

Standard galvanised. Powder coated or Stainless Steel on request.

Dimensions

Free passage up to 4000 x  4000

Opening Speed

0.9 mt/sec.

Closing Speed

0.9 mt/sec.

Motor

Side or Front facing 380V 3phase motor. ATEX certified. 

Curtain position

ATEX limit switches in the upright.

Control box

Electronic type. Open, Close, Pedestrian, Reset and Emergency stop buttons on the cover. Power supply 380V 3phase. 10 operation mode selectable, Pedestrian opening function. Integrated 2 channels Radio receiver. ATEX enclosure.

Manual operation

With long handle on a motor unit for manual movement of the curtain in case of main power supply 

failure.

Safety

Safety photocells in the doorway. ATEX enclosure.

Curtain

Antistatic certified. Standard with horizontal reinforcement tubes. Polyester fabric 900 gr/sqm. Fire reaction UNE 23.727-90 Class M2. One full vision window as a standard.

Curtain colors

Light Blue (Antistatic).

Special curtains

Thermal and Acoustic insulated 3mm. Antistatic.
*G-Gases, mists, vapours; D-dusts; T- temperature <200°C