Paramount 26 Ltd fire rated emergency doors comply with British Standard BS EN 1634-1:2000.
These doors have been tested, passed and certified by the Warrington fire Global Safety Laboratory WF report No. 15280 achieving F240 or 4 hours Fire Prevention.
The doors and frames are manufactured from galvanised steel. There are two vertical steel reinforcements in the interior of the door to increase both strength & security.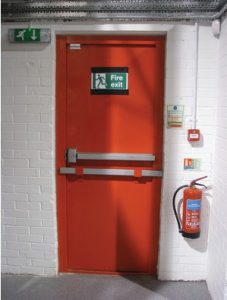 All doors are insulated with Glass Wool Fibre in accordance with British Standards directives BS EN 1634-1:2000.
Fire doors can be powder coated to your desired colour.
Full Dimension Details can be found in our Downloads section.
Handing of Fire doors is determined by standing outside of the door.